Although restrictions have been lifted slightly, many people (like us) haven't seen much change in the way their lives have been. Mrs Surfer and I have been at home for a good number of weeks now, luckily surviving with online shopping deliveries and the odd delivery from our daughter who lives locally. With so many weeks spent at home, we have thought of different ways to spend our days and pass the time. It's hard not being able to get out and about as normal, but we're getting by and looking forward to when we can see our family again.
One of the things Mrs Surfer has particularly enjoyed is getting crafty. A big fan of knitting and crochet, she has made some brilliant things over the past few years – and the past couple of months are no exception! Mrs Surfer has made things for different charities over the years – Easter chicks for a local family communality hub and a nativity play for a local charity spring to mind as ones that stick out!
Everyone Should Get Crafty
If you're looking at ways to spend your time during lockdown (and beyond) why not look at different ways you can get crafty? Lots of people, especially children, have taken to painting rainbows and displaying them on their windows for NHS keyworkers, which is a really lovely gesture. With SVG files from places like Design Bundles, you can find patterns for all sorts of things you can make to pass onto others. The NHS and keyworkers have done so much for us over the past few weeks and will continue to do so when life goes back to normal. So creating a poster, thank you card, scrapbook or something else crafty as a show of our appreciation is a really nice gesture.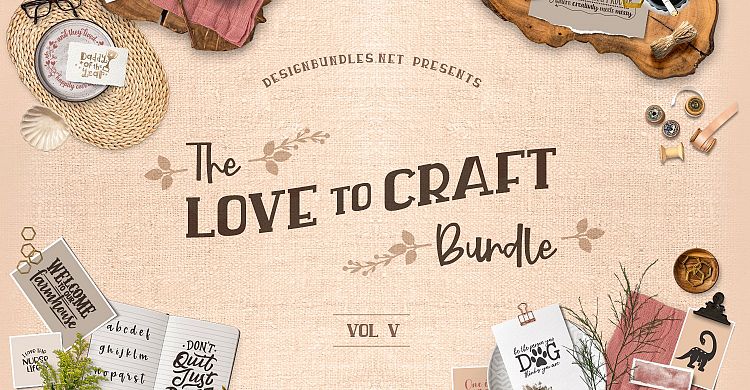 There are different ways you get inspiration online on what to create but Design Bundles has loads of patterns and templates that you can use which makes life much easier! You'll probably even find that you have lots of the craft things you need already around the house, which is great because we shouldn't be making unnecessary trips to the shops!
Spending Your Time While Stuck at Home
However you are spending your time, know that there is no right or wrong. I have enjoyed some gardening over the past few weeks, which has been a lovely excuse to get into the garden and get some vitamin D. We have also just invested in a dart board as we were missing our weekly dart matches! So far, so good!
Whether you want to read, listen to music, relax or do something more productive, there are loads of ways that you can do this online! Get inspiration from someone like Design Bundles if you're looking for ways to be productive and give something back – which I personally think is a really lovely idea and something Mrs Surfer has always enjoyed in the past!
How have you been spending your lockdown time? Any ideas you can share with us?